For anyone new to planning and organizing a global project, this chapter is for you. Chapter 10 is an invaluable step-by-step guide to creating a global project; exploring many lessons we learnt the hard way,and providing some useful ideas which will be incorporated into Global Classroom 2012-13.
I was particularly interested in the social media / marketing strategy outlined in this chapter, as the public #globalclassroom project spaces were explicitly built on the Flat Classroom spaces. We just added a few of our own ideas – including our enormously successful Skype IM group, and the monthly #globalclassroom Twitter chats.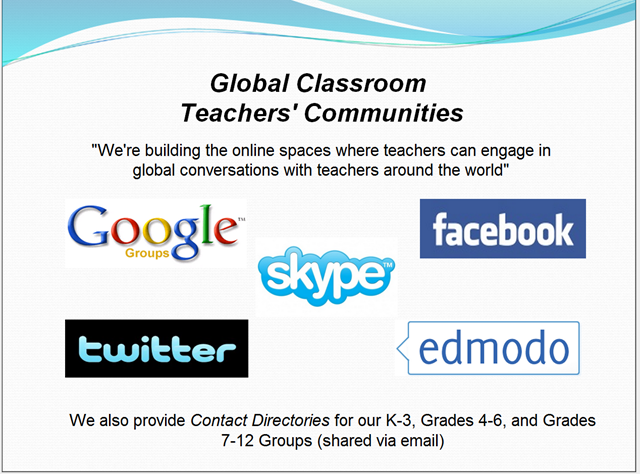 As I commented in my (little publicized) Edublogs Fine Focus webinar last week, our project is not the first "global classroom" project in existence, and certainly won't be the last.
Each project builds on and utilizes the people and technology available at the time. The ideas, dreams, and creative potential already exist – it is just a matter of making the connections and fostering the global conversations.
The Global Classroom Project came to be through our connections, which were made possible by the social media technologies available to us at the time. Our model is about providing the communication and collaboration spaces for interested teachers, and I have no doubt that it will continue to grow, evolve, and change over time.