It is hard to believe that #ACEC2012 has been and gone. Yet, I will carry its legacy for many years to come.
For me the conference was not about the presentations or the keynotes, although they had their place. It was about the connections, the conversations, … and the food … (only partly kidding!)
During the conference, I had the opportunity to meet many wonderful, inspiring educators – some of whom I have known and worked with online for years. Some highlights included meeting @rgesthuizen, @ackygirl, @brettelockyer, @HenriettaMi, @losiath, @murcha, @tasteach, @alupton, @smadsenau, @melcashen, and frankly, the list goes on …
I took a great deal of confidence and affirmation away from #ACEC2012. 
Making my presentation debut at Australia's national ICT conference was a personal milestone, one which I will remember for many years to come. The fact that I had a full house, and received such wonderful feedback on the 'passion' of my presentation, was a welcome recognition that my work is valued beyond the emotional roller-coaster of my day-to-day teaching practice.
I knew that my work in global education was respected by educators around the world, but I really appreciated the opportunity to sit down and talk to people whose teaching practice and educational outlook are being transformed through their engagement in the #globalclassroom community.
I'm a teacher. I may not have my own class, but I'm making an impact.
And I'm already looking forward to attending #ACEC2014 in Adelaide!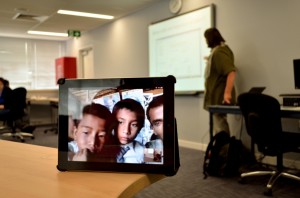 Skyping with @SAVSchool at #ACEC2012