A little over a year ago, I woke up in the middle of the night with an idea … What if we could create a physical artefact of global collaboration? What if we could create something to demonstrate the power of global connections with our schools, communities, and the world?
And thus, the travelling scrapbook project was born. 
Since March 2012, I've coordinated the extraordinary journeys of three #globalclassroom scrapbooks around the world.
As of May 2013, the scrapbooks have been hosted by 16 teachers, in 10 countries; and travelled in excess of 122 400 km (76 055 miles) – which is equivalent to circumnavigating the globe THREE times!
Our participant students and teachers around the world have embraced the opportunity to share a little of their lives, cultures, schools, and countries with the wider global community; and their contributions to our travelling scrapbooks are a true testament to the power of global collaboration.
One journey is coming to an end
Scrapbook #2 came home last week.
It bears the stains and wear and tear that you'd expect from a document which has travelled well over 47 563 km (29 554 miles) over the past year. It's been to Brasil, Guatemala, … was lost in Honduras, … Texas, and New York City (USA). It's been shared with children around the world, and its journey is coming to an end.
It's hard to describe what its like to hold this document in your hands … It's the embodiment of a dream … made reality through the efforts of teachers and students who've I've yet to meet face to face. The stories, the photos, the sketches … make this a unique, and very special physical artefact of global collaboration.
Sadly #2 is in no condition to continue on its' global travels through the mail system, but there is one last trip in store … It will travel (in my suitcase) to the iEARN 2013 conference in Doha, Qatar … in just over four weeks time, where I'll be presenting on the Travelling Scrapbook Project, and launching a new spin-off iEARN scrapbook project.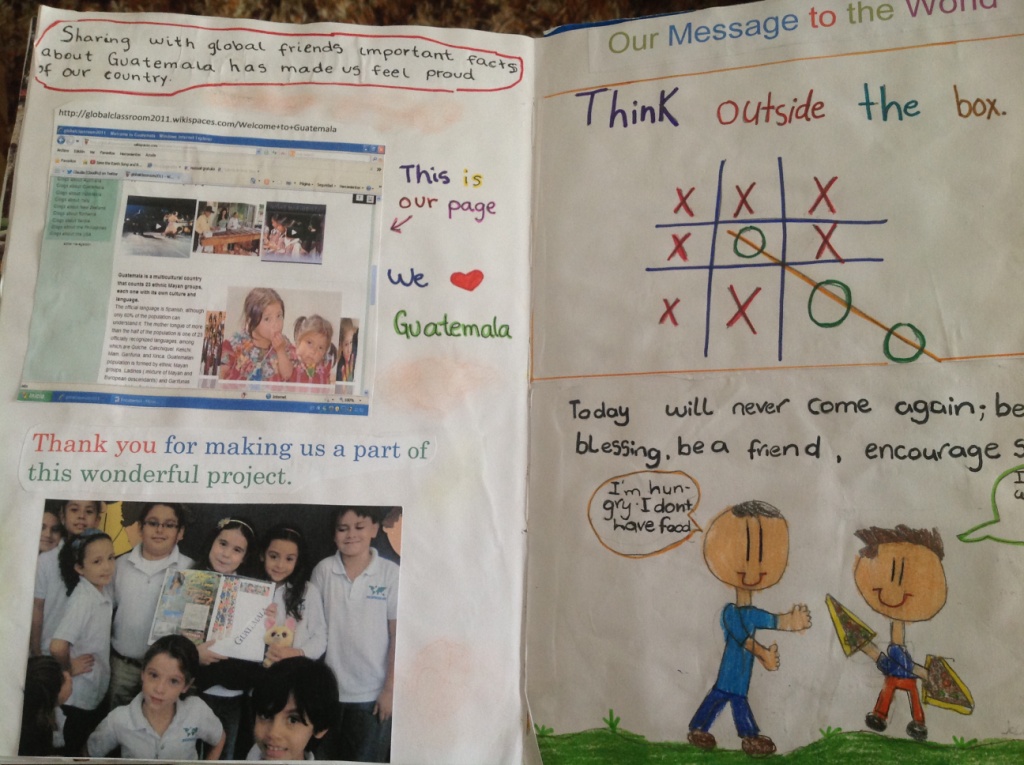 But, the journey continues
The Global Classroom Travelling Scrapbooks have become a unique, special part of the #globalclassroom community, and the remaining scrapbooks will continue on their travels for some years to come.
I'm planning the introduction of at least two new books in the coming months, so I'm looking forward to seeing this project evolve and develop over time.
I'd love to have scrapbooks touring Europe and the Middle East, … and I'm now starting to wonder if we can get the scrapbooks to travel more than half a million kilometres?
It might take a few years, but let's see …