Compiled for BPS teachers after discussions at today's staff development day, this short guide to AudioBoo & QR codes in the Classroom might be helpful to others. If you have any questions, please ask! (And if you think I've missed a great resource, please let me know in the comments).
AUDIOBOO IN EDUCATION
AudioBoo (http://audioboo.fm) is a free tool for creating 3 minute voice recordings (short podcasts) which are then shared online, usually via a class account.
To create recordings in class, you need to download AudioBoo for iPhone OR AudioBoo 2 for iPhone, NOT for iPad. (Sorry for the confusion!)
This app/tool has huge potential for educational use (see examples listed below), and is a great way of sharing students' writing / learning with parents using QR codes attached to student work.
After struggling to remember how to create Audioboo QR codes during the session, I finally found out how, with the help of @karlyb in the USA. It's simple, but you will need to log in to the desktop version of Audioboo to download and print the codes: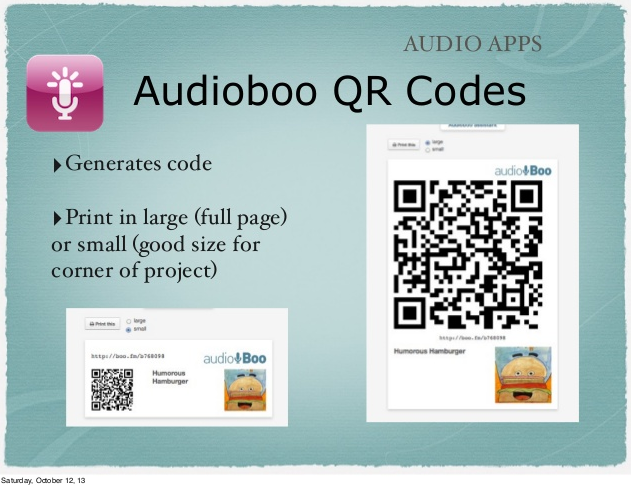 EDUCATIONAL APPLICATIONS – AUDIOBOO
QR CODES – SOME RESOURCES TO EXPLORE
The best tool for creating your own QR Codes is Kawya (desktop) – http://qrcode.kaywa.com/dashboard/ (just create static codes – free), and there are several great apps for scanning codes on mobile devices.
I am a big fan of the QRafter app, the Pro version of which enables you to create QR codes on your phone/iPad. The links below contain some fantastic examples of how teachers are using them in classrooms around the world.