One of the many reasons why I haven't blogged here much this year is because I've been busy blogging elsewhere!
Since February this year, I have been assisting Dr Jenny Lane with her TIPS 2012 iPad project, an exciting research project happening right here in Western Australia.
For me, it is a wonderful opportunity to blog, visit iPad schools, and learn a great deal about integrating iPads across the curriculum. This is really exciting stuff!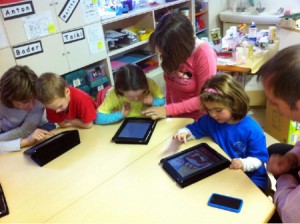 Are you an iPad Educator?
If you're interested in iPads in education, I highly recommend exploring the TIPS 2012 blog.
There are a wealth of resources, links, stories, and quality education app reviews to be found there, and if you complete the Tips2012 iPad Research Survey before June 6, you could WIN a $50 iTunes voucher!
We are particularly keen to feature teachers' iPad stories with our significant & growing international audience. So if you use iPads in education, or have a story to share, Dr Lane would love to hear from you. You can contact her via Twitter (follow @EduJen), or email: TipsProject2012@gmail.com.
And don't forget to keep an eye on the blog for some exciting announcements coming soon!