As I look back over the past six months, one teaching and learning experience stands out as a true highlight – the Year 3 iMovie Book Trailer Project, which was developed and brought to life by the amazing students of Year 3B, and their wonderful teacher. 
The Process
This project was run in Term 3, 2014 as a team-teaching project over six weeks, with roughly 90 minutes (2 lessons) each week. Neither the classroom teacher or I had ever done anything quite like this before, so it was very much a collaborative learning experience – and not just for the students!
Students worked in small group "book clubs", choosing their favourite book from the Australian Children's Book Awards Shortlist for 2014. They worked to identify the main events of the story, holding detailed discussions about the book as they set about creating visual storyboards.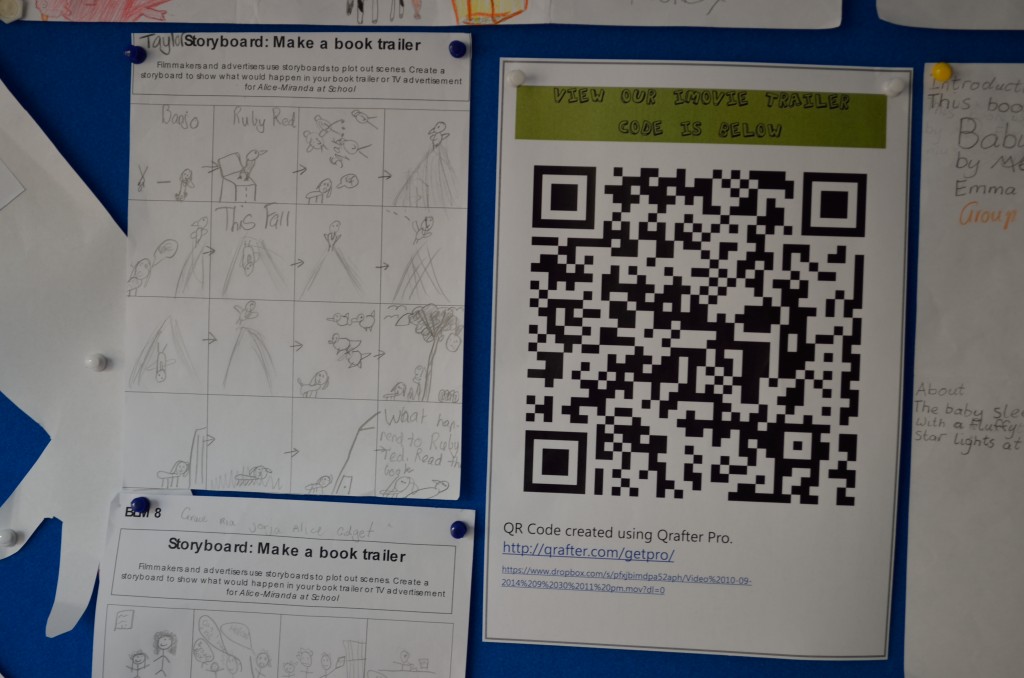 When we started this project, we weren't sure if we'd have students' filming scenes from the books, or using Creative Commons/Public Domain images off the Internet. We eventually decided to go with the (somewhat) easier option – filming. Prior to formally filming book trailer scenes, we gave students time to simply play with the iPad camera, Photos, and iMovie app, discovering how they all worked. The stage was set for one of the most intense, but rewarding teaching experiences I've ever been a part of.
On filming day, I knew we were in 'trouble' when I discovered a group of students setting up with piles of cardboard boxes in the library – before school had even started! Students brought in costumes and props, and set to work filming their scenes. This proved to be a fascinating process for us as teachers, as we noticed some groups found it much easier to work with each-other than others. We tried to maintain a hands-off, over the shoulder approach, and let the students work through the creative process relatively independently; however, we did have to step in with one group on several occasions.  We weren't overly sure how many lessons we'd need, and eventually spent about three (very intensive) hours in total.
The Results
Our students blew us away with their passion, creativity, and sheer enthusiasm; and the videos they produced were of exceptionally high quality. Unfortunately, I didn't have time to ask for parental permission to share them on my personal blog, and I ran out of time to put them on the school website! Next year, that won't be such an issue, as student publishing will be one of our major whole-school ICT focus areas.
Reflections
As this was very much a collaborative ICT integration project, I asked my partner teacher to share her thoughts on our teaching and learning process –
It was a pleasure to work with Michael on this Book Trailer project. His excitement was shared by the children and myself. I came to the table with little experience so he was involving me in the learning process along with the children. With his guidance the main elements were discussed as a whole and then the children were encouraged to play and experiment. Other Book Trailers were critiqued by the children, the children became confident critics and through the process the children developed an eye and an understanding for what was required to produce a powerful and successful Trailer.

The children were supported with their learning at all times by Michael as he moved with ease from one group's individual need to another. Michael allowed the children to be creative and encouraged them to solve problem themselves learning from each other. The parents were impressed with their children's enthusiasm for the Book Trailer project. Some children asked to have a permission note for their parents, to allow them to come to school early so they could get started on their filming. The project was then able to be viewed by all parents during Open Night. It was a huge success where we got to how learning became fun and effortless for all involved.

The children came into this project with no experience with this type of technology or using iPads in a collaborative project. The children chose to be in a group that they had a common interest, the interest was their favourite book from the Book Week nominations. As a result group sizes were varied along with a variation in literacy ability. This could have been very challenging for most teachers but through this project I believe we got the most from all our children. They are looking forward to the next project with Michael.
My Thoughts
As I look back at this project, I am immensely proud of what we achieved in a relatively short space of time. I was blessed to work with a gifted, enthusiastic classroom teacher who was prepared to take risks, letting the students take the lead in their learning. We were able to forge a close working relationship, building on our respective strengths and expertise to enable our students to create something special. I'm very much looking forward to seeing what we can do together next year!