A few observations from my first trip to the USA for ISTE 2015. 
Please click on the links to view my photographic journey through Philadelphia, Washington DC, and New York City. There are many great shots that I couldn't fit into this post.
1) As a rule, Americans are a friendly people. 
Whether it be on the train, or on the sidewalk … I was genuinely impressed with the warm welcome I received from complete strangers, especially in Washington DC. In a strange sense, I felt at home there. Sadly, my experience wandering New York City was a little different (see below).
2) America is an amazingly culturally and religiously diverse country.
To put it mildly, the sheer cultural and linguistic diversity I experienced through my travels in the USA were breathtaking. Wandering the streets, you could find food outlets from around the world, and hear more languages than I'd care to name. I loved wandering the Chinatowns in DC and NYC, and the meal I had in Little Italy (NYC) was one of the highlights of my trip.
New York style cheesecake in Little Italy http://t.co/AQodHfbyPi pic.twitter.com/HsccLOKUxr

— Michael Graffin (@mgraffin) July 13, 2015
3) Americans like building monuments to their past presidents.
As an Australian, visiting the national monuments in Washington DC was somewhat surreal. The thought of erecting massive Greco-Roman inspired temples for our past leaders is just unheard of here. That said, the Lincoln and FDR Memorials were simply stunning. As a child, I grew up reading stories about these leaders, and to visit the sites I'd only seen in books was an incredible experience.
The war memorials were a much more familiar sight; however, I could have done without the crowds of tourists waving their selfie sticks around. I hate selfie sticks … 
4) There's nothing wrong with Amtrack on the East Coast (unless you ask an American!)
I found my friends' looks of shock and horror upon my mentioning that I was catching Amtrack between Philadelphia – Washington DC – NYC) quite amusing. While there had been a tragic accident on the route several weeks before I travelled it, I loved my experience on Amtrack. It proved to be a fast, and relatively stress-free way to travel between the major cities on the East Coast. It also helped me avoid unnecessary encounters with the TSA.
The train stations were attractions in their own right – true palaces celebrating the glory days of train travel. There is nothing quite like the iconic Grand Central Terminal in NYC, or Union Station (DC) here in Australia.
Amtrak Business Class had its' perks. Priory Boarding was stress free. Nice seats and wifi… http://t.co/l5WUtNDdBR pic.twitter.com/MzMZdiZT9K

— Michael Graffin (@mgraffin) July 10, 2015    
5) Most Americans only dream of experiencing Independence Day in the national capital. 
When we celebrate our national day here in Australia, in my not too humble opinion, the best fireworks in the country are held right here in Perth, my home city. That said, I specifically arranged my US travel itinerary to ensure I could fulfil a dream of experiencing the Fourth of July in Washington DC. I was so glad I did.
After standing for hours in the pouring rain on Independence Avenue, the sun came out to shine on the 2015 Independence Day Parade, a richly colourful and musical celebration of the American people and nation. Later in the day, I joined thousands of people on the South Lawn of Capitol Hill to listen to the A Capitol Fourth Concert, before watching the fireworks burst over the Washington Monument. It was worth coming halfway around the world for!
 6) Americans have a love affair with loose change.
When I went to Qatar a few years ago, the locals' dislike of their equivalent to the 50c coin meant that the one or two coins I collected during my trip became instant souvenirs. Fast forward to my travels in the USA, when I collected a bewildering variety of loose change of all shapes and sizes, so much that I wasn't sure how to get rid of it! I ended up bringing home a pile to give to my Grade One students as souvenirs.
Random question for US folk … How do you cope with the mountain of loose change that people seem to throw at you?

— Michael Graffin (@mgraffin) July 9, 2015
@yourkidsteacher @soxfan234 I am astounded at the dimes. Cent coins … Plus everything else I'm accumulating … Quarters, ten cents, — Michael Graffin (@mgraffin) July 9, 2015
7) To survive in New York City, tourist mecca (hell), you need to behave like a New Yorker.
I enjoyed exploring the sights and the amazing museums of New York. The Metropolitan Museum of Art and the Top of the Rock were worth every penny; and I loved the opportunity to see Penn and Teller live on Broadway. I took a Circle Line cruise (buy the Premier ticket), took a Photo Safari with NYC Photo Safari (recommended), and enjoyed the wonderfully informative Walking Tour of The Chelsea Markets & The High Line.
That said, I quickly learned that to survive in New York, you need to pretend you belong there. You ignore the traffic signals, walk very quickly everywhere, and try to avoid tourist hellholes i.e. Times Square & the Staten Island / Liberty Island Cruise terminal. You don't make eye contact, you ignore the people shoving "bus tour" pamphlets in your face (even at 11PM), and just keep moving. This was not a particularly pleasant experience.
I dressed like an office worker, and tried to get off the beaten track.  I was glad I did, because I was able to discover a little of the true New York by escaping Manhattan, where I explored the beautiful, leafy streets of Brooklyn, and soaked up the night-time skyline views from Hoboken, New Jersey.
8) America is the home of the local train station / street entrepreneur. 
In Washington DC, it was not uncommon to come across local street sellers flogging bottled water for "one dollar, one dollar". Their sales cry will remain with me for the rest of my life. 🙂
I was advised to keep an eye out for the "stupid tourist tax", but I was lucky enough to have brought my own water bottle with me (best conference souvenir I've ever purchased). When it rained, which it seemed to do often, umbrella sellers would miraculously appear out of the woodwork, taking up positions outside subway exits to catch the commuters caught in the rain. I normally carried my own umbrella, a gift from a friend in Philadelphia, but I wish they'd been at the Capitol South Station on the day I got caught without it – when I squelched my way home in a torrential downpour.
9) Everything is bigger in the USA
I was warned prior to my trip that American food serving sizes were big. I honestly didn't realise how big until my first night, when a dear friend and her husband took me out for pizza. They were planning to pay by the slice … and when I saw the size of the said 'slice', I understood why!
While I couldn't afford to eat out often, I loved the food choices I encountered on my travels. The spaghetti meatballs and cheesecake in Little Italy, the roast beef "sandwich" I had at DiNic's in the Reading Terminal Market (Philadelphia), and the meals I shared with @cpatsero in DC and @bwileyone in NYC were highlights of the trip. And yes, serving sizes were significantly larger than I'm used to in Australia!
10) Where ever I went, I met fellow Australians.
It would appear that Australians are a well travelled people. I ran into my fellow countrymen everywhere. I had a fellow Perth local, who I'd never met, join me for the ISTE Philadelphia PhotoWalk, and I joined a group of Aussies for the Independence Day Parade in Washington DC. I even met a few Aussies on a rail replacement bus in NYC as I was making my way to the Staten Island Ferry.
Be warned America, we seem to be everywhere!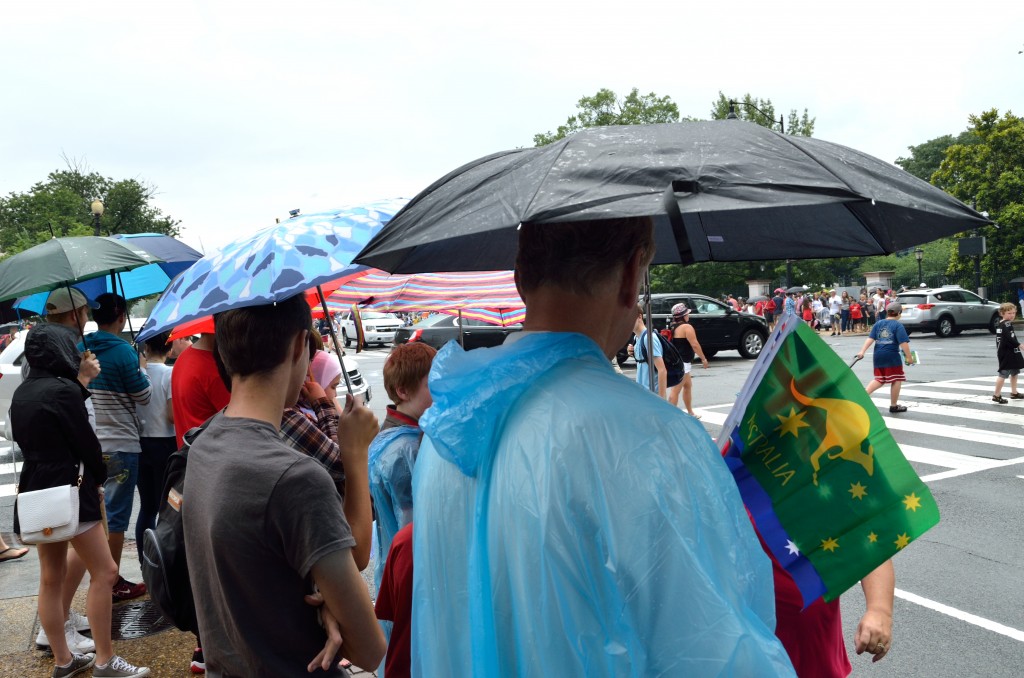 11) Baseball is interesting … for about the first hour and a half.
Baseball is OK. It's a sight better than American football, which as a passionate Australian Rules Football supporter, I can't quite bring myself to call football. Attending a Phillies match with friends was just priceless. With terribly sore feet, I was grateful we didn't stay until the end of the match.
12) Keep to the right! 
Not only do Americans drive on the "wrong" side of the road, the whole keep to the right is embedded in all aspects of daily life. You keep to the right side of the train station escalator if you're standing. Oh, and those escalators travel in the opposite direction to what I'm used to here in Australia. Some of them were rather impressively long …
13) American houses are big, often two storey, and use a LOT of wood in their construction.
This may be normal for Americans, but as an Australian living in a bushfire prone climate, it was really different. I loved staying with friends in Long Island and Philadelphia, and their houses were really beautiful (all protestations from a certain New Yorker to the contrary).
14) Parking is at a premium in NYC. In fact, driving in NYC is a nightmare …
15) Farmers markets & urban regeneration – bringing life to the streets of Washington and NYC
Wandering Brooklyn and Washington, I loved coming across farmers markets and street markets. Much of the varieties & produce I saw are not available in Australia.
I also thoroughly enjoyed the pedestrian spaces and urban regeneration projects in NYC, including the Flatiron Plaza & the High Line. They helped make the city that little bit more liveable.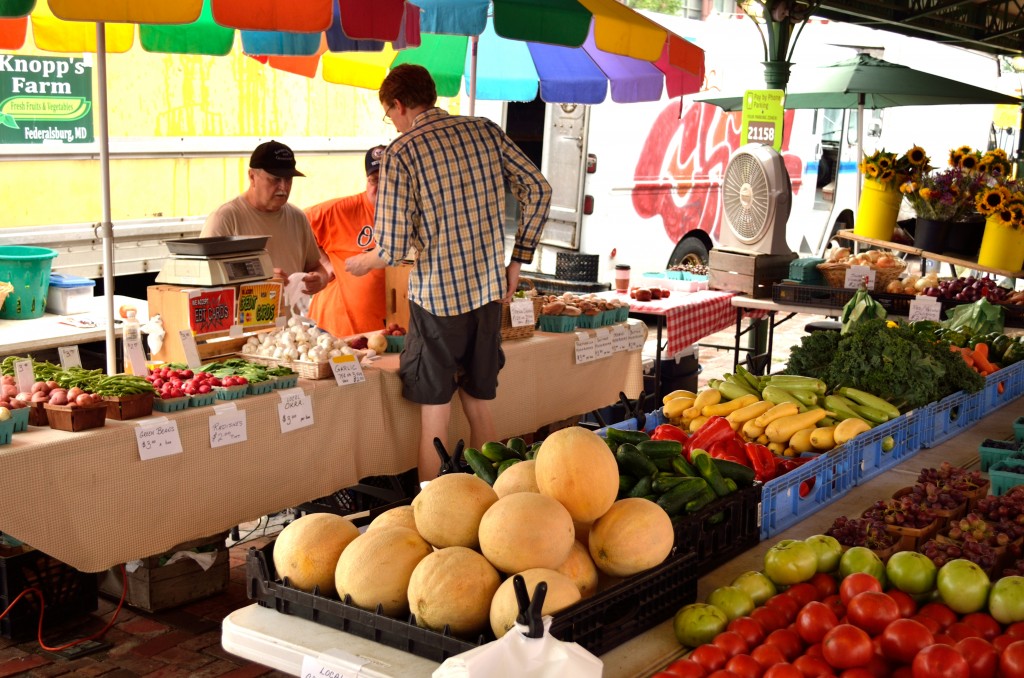 15) For my amusement, a collection of street signs …
I'll be back.
Apparently San Antonio is nice.
If I can afford it …