After a journey of some 30 hours and over 18000km (11,603 miles), I arrived in the United States for my first ever ISTE conference. It proved to be an incredibly emotional, sometimes overwhelming week. Despite the very best advice I received in the lead up to the event, I soon discovered nothing can quite prepare you for a conference with 20 000 plus attendees, over 1000 vendors, and nearly a 1000 workshops and presentations.
In trying to tell the story of my ISTE2015 journey, I'm going to focus on some key themes and experiences which stood out for me.
The power of the Unconference
Arriving in Philadelphia on Saturday morning with my good friend @lparisi, the weather turned nasty – and very wet. Forced to scrap my planned photo walk and city orientation, I immersed myself in the Hack Ed Unconference. Joining halfway though the day, I started meeting people I knew online, some of whom I'd been following for years; and joined group conversations about topics which interested me. I was less thrilled with the after party (I am not your typical party person), but meeting @lynnrathburn and her colleagues there made it all worthwhile.
Global Connections and Collaboration
Judging by the responses to our poster sessions, and the Twitter feed for several big Ignite presentations, connecting and collaborating globally was of interest to many attendees. I thoroughly enjoyed the Global Educators Brunch, hosted by @globaledcon and @VIFLearn; and the Global Education Day event. The brunch was made all the more special as it was the first time nearly all the #globalclassroom project leaders and organisers, from Australia, Canada, the United Kingdom, and all around the United States, were in the same room. Most of us were meeting for the first time after over four years of working online.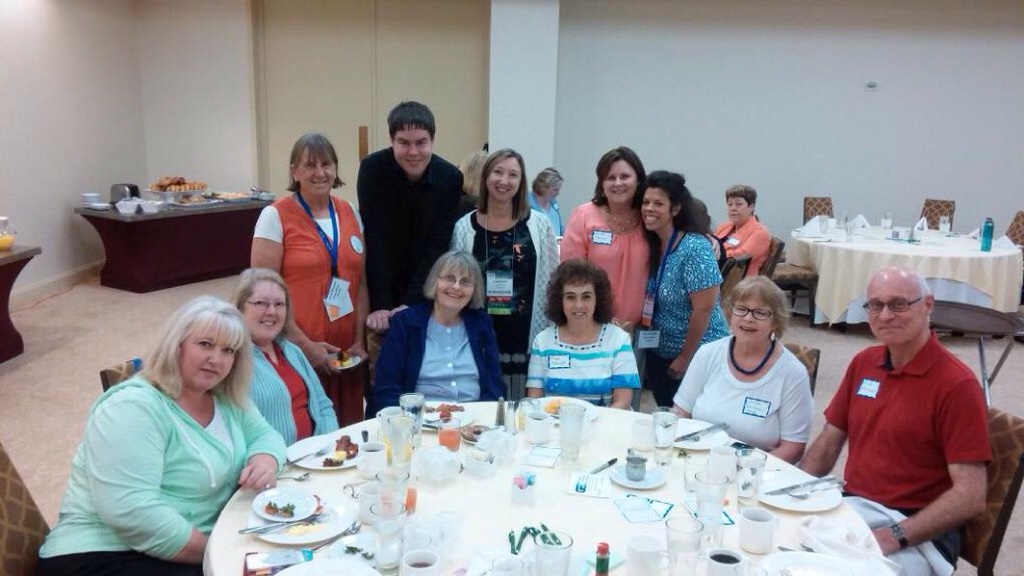 The Global Education Day was interesting, but its most important aspect was the people in the room. To sit alongside and converse with global educators who have inspired, guided, and helped make me the person I am today was an amazing, and very emotional experience.
Coding and Makerspaces
I must admit this is a particularly big interest of mine at the moment, as I am trying to advise my school on the future direction of our ICT program. I am quite keen to delve into robotics and Makerspaces, and I loved the chance to explore the Maker and Coding playground events at ISTE. I played with Cubelets, shared my experiences with the MakeyMakey, searched for information on LittleBits, Squishy Circuits, and collected as much information as possible about 3D printing. I have plenty of pics, and some big ideas which I'll be taking back to school.
The opportunity to share my story & expertise in global education and iPad integration
When I applied to present at ISTE last year, I was well aware that the organisers accept less than half of all applications. I submitted proposals for the Global Classroom Project Poster session, an iPad Creative Challenge Workshop, and joined another poster session focussed on global blogging and the Student Blogging Challenge. To my surprise, I was accepted for all three – which was unusual to say the least!
The two poster sessions were incredible learning experiences, and I thoroughly enjoyed the informal, conversation based format – even though two hours proved utterly exhausting (and a little overwhelming). My workshop was a challenging experience. With just five registrations, four people turned up on the night. One left shortly after it started (I have no idea why), and one gentleman was deaf! Among the challenges was trying to run a group collaborative session with just four people, and working with American Sign Language interpreters to ensure my deaf colleague found the session valuable. I received positive informal feedback in the session, but I'll admit it was probably the most challenging presentation I've ever given.
Thank you for the memories! 
Perhaps the greatest, and most emotional element of this conference was meeting Twitter friends, new and old, from all over the world. I lost count of how many hugs I received, and I won't get started on the selfies :P. I had my first, second, and … who knows how many selfies at ISTE!
While sadly not all of my #globalclassroom PLN could attend ISTE, I was deeply indebted to those who made the trek, especially those two dear friends who drove 25 hours (each way) to come and see me. I hope I was able to make that incredible roadtrip worthwhile for you.
Dear @LParisi, thank you for picking me up at the airport in NYC, and the lift to Philadelphia. Your kindness, hospitality, and relative calm in the NYC traffic were deeply appreciated. I still maintain you have a very beautiful home – all protestations to the contrary :). (Please pass on my regards to your husband – it was a pleasant surprise to find a fellow photographer after a 30 hour trip to the USA. )
To @MrsSchmidtB4 and family, thank you for your warm hospitality. I still can't quite believe that I was helping a "local" navigate Philadelphia, but I couldn't have managed to see the city without your help :).
To everyone I met, I thank you from the bottom of my heart. You made this conference one I will remember for many, many years to come.