18 months ago, I had the privilege of attending the prestigious STEM X Academy in Canberra. In January 2019, I was one of four STEM X Alumni invited to return to Canberra, with the job of mentoring the Primary Teachers' cohort, and sharing my experiences post STEM X 2018. It isn't often that you can say you get to live a 'once in a lifetime experience' twice.
I had planned to write a whole series of posts about the STEM X Academy, but life and work got in the way – it wasn't an easy year.
So, a year and a half later, its time to have another go at sharing what I learned.
Inquiry & Problem-Based Learning Pedagogical Approaches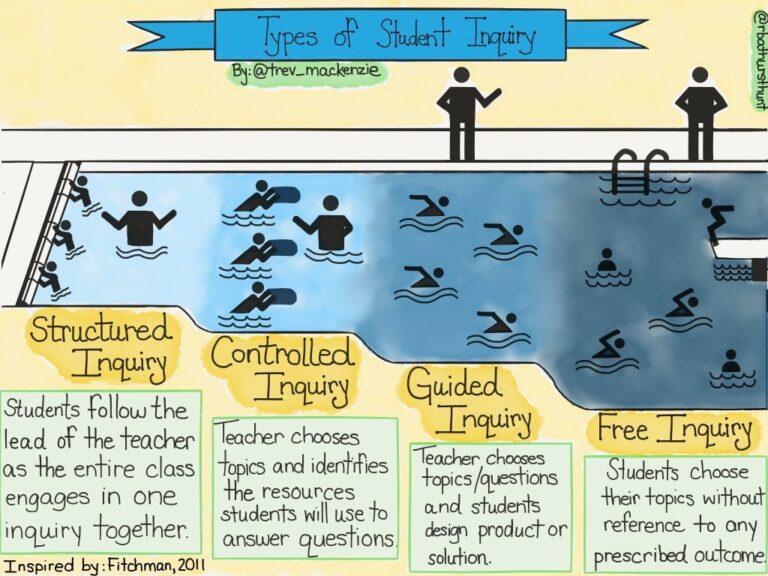 From "Personalized Learning Using the Types of Student Inquiry" by Trevor MacKenzie.
STEM: "A Way of Thinking and Doing"
Writing for the ISTE Empowered Learner Magazine in July 2018, I argued that "STEM is fundamentally a way of thinking and doing, an opportunity to explore and pose solutions to real-world problems using design thinking and the engineering process". For us, inquiry learning and the engineering design process are central to the development and implementation of meaningful STEM projects.
From our experience and research evidence, effective STEM / inquiry learning projects:
Place equal emphasis on the learning process and the curriculum content.
Are built on effective formative assessment of students' prior knowledge and skills, and explicit teaching of key curriculum concepts and skills before and during the STEM process.

These concepts and skills may come from multiple learning areas – e.g. Science, Geography, Technologies.

Promote a culture of curiosity, wonder, and questioning, by both teachers and students. In this environment, teachers need to be comfortable being lead learners.
Where feasible, offer students the opportunity to connect with real-world experts in relevant fields.
Give students a voice in their learning e.g. negotiating inquiry questions around a central theme, or giving students a choice of differentiated options for presenting their learning.
Enable students to actively and collaboratively construct understandings through hands-on learning experiences, shared research, and sharing their learning in different ways, including constructing prototypes.
Here are some examples of what STEM is starting to look like in our school:
Year 3 "Mission Moon" (Junior FIRST LEGO League, 2018)
The Junior FLL Challenge has proved to be a fantastic & relatively cheap ($30/kit inc shipping) introduction to inquiry learning in the early years. Through the Junior FLL process, students participate in a guided inquiry, investigating and designing solutions to real-world problems relating to the theme. We have now had classes participate in the AQUA Adventure (2017 – water conservation) and Mission Moon (2018 – lunar colonisation) challenges. This year, we've heavily adapted and improved the Aqua Adventure challenge as our Year 2 STEM unit; and my Year 3 colleague is keen to participate in the 2019 BoomTown Build Challenge – which will focus on problems relating to sustainable cities.
The Mission Moon project, which required students to design and build a LEGO Moonbase, was hands-down one of my all-time favourite STEM projects that I've run at this school – and it was a big hit at our community STEM Expo in Term 4, 2018.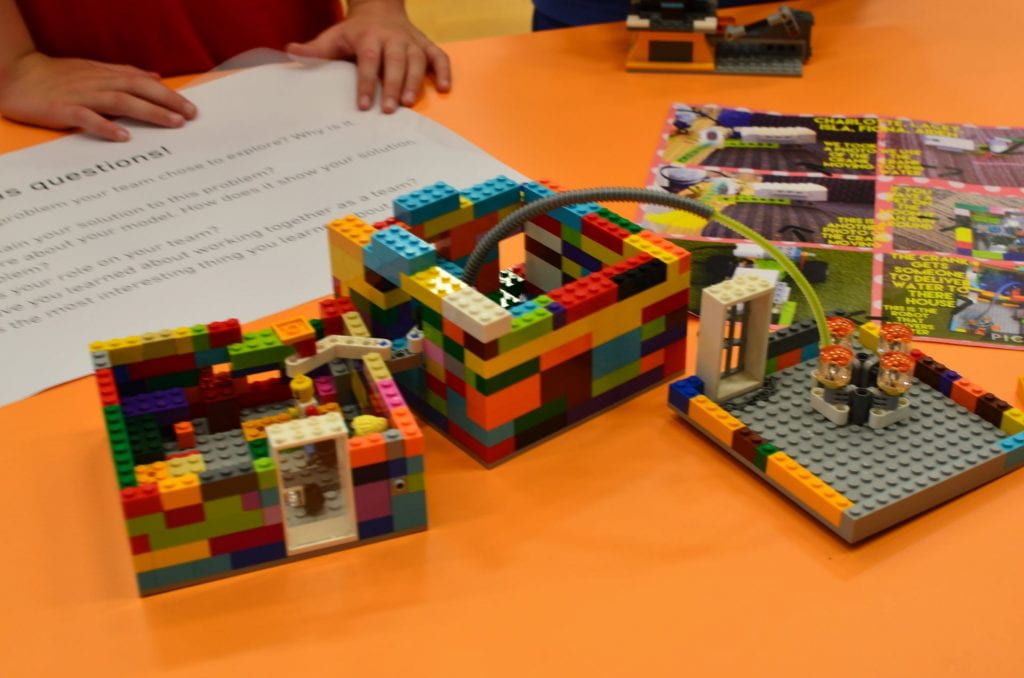 Year 5 "Mission Mars" (2018)
This was our first attempt at integrating LEGO Mindstorms robotics into a classroom STEM project. We used the Mission Mars LEGO Challenge and adapted the provided project ideas to suit ourselves. We started the project using the question generation process I learned at the STEM X Academy. Students brainstormed questions relating to broad problems that would face a human expedition to Mars, including food production, space medicine, physical exercise in space, and dealing with isolation on long-duration missions. In groups, the students narrowed down their questions to pick a topic and problem of particular interest to them. Many teams were curious about food production on Mars, and one team opted to explore space medicine and surgery. Documenting their research and learning process in STEM journals, teams went on to build physical prototypes of their solutions, which they shared at our first Junior School STEM Expo in Term 4, 2018.
We are planning to rework this unit of work for Semester 2, 2019 – either focussing it on the establishment of a lunar colony or looking at human space exploration more generally.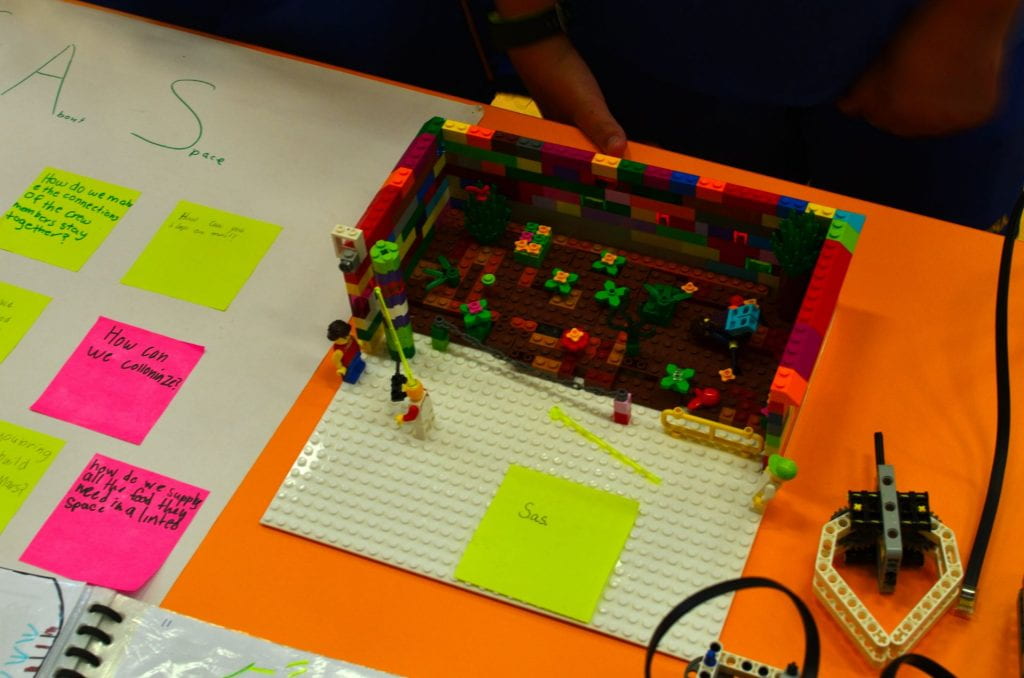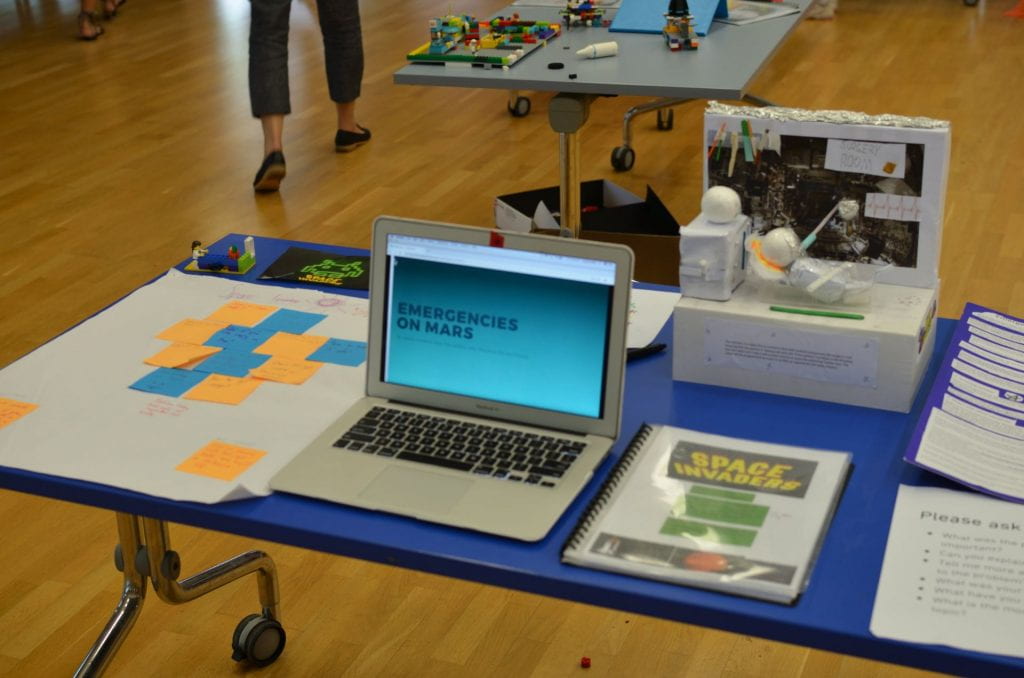 Ongoing Projects (2019)
Year 3 Underground Mining Robots (LEGO WeDo)
The majority of our Year 3 cohort are familiar with LEGO WeDo robotics programming, in terms of being able to build the base robot and make it move forwards and backwards. This year, we taught the students how to program the distance and tilt sensors using Scratch (with the new LEGO WeDo Bluetooth extension); and offered the groups the opportunity to work out how they could engineer improvements to the base robot to meet the miners' needs. As a result, we have groups working out how to ensure mining robots can travel over uneven ground, transport equipment and/or mined materials using carts, and provide protection and seating for miners travelling underground.
Year 5 Bushfire Project (2019)
In preparation for the Term 3/4 Space Exploration STEM Challenge, the Year 5 teachers and I are trialling a differentiated inquiry project focussed on Bushfire Safety. In this project, students can demonstrate their learning about bushfire safety in three different ways:
Design and build a prototype fire alarm system using Micro:bit that activates in response to an emergency radio broadcast sent out by the Department of Fire and Emergency Services WA.
Design and construct a prototype bushfire prepared house, with a bushfire emergency response plan.
Design and present a public awareness campaign video, Keynote presentation, or Scratch game about Bushfire safety.
References
Lutheran Education QLD, (n.d) https://www.australiancurriculum.edu.au/media/1360/lutheran-education-queensland-inquiry-based-learning.pdf
Victorian University Centre for Innovation and Excellence in Learning (n.d). https://ciel.viu.ca/scholarly-teaching-practice/viu-council-learning-and-teaching-excellence/2016-2017-council-action-groups/types-inquiry